Stats

• 11200 Smileys
• 200 categories
• 315 Bananas
• 310 Good jokes
• 960 Funny names

• 300 % Free •



Links
Partners :

Find Smiley :
You can search for any smiley very easily by typing your words.
Examples : pets, shy gif, mad smiley...


Smileys It's my Birthday 2
My Birthday Gifts !!










Happy Birthday...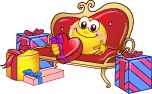 See also :



Party 1

---> Party 2 • Anniversary 1 • Anniversary 2 •
The cake • Cake 2 • Birthday Gift 1 • Birthday Gift 2



More

---> Cotillons • Eve • 4th of July USA •

Not Lol but Lulz !



• Laugh :


A trucker who has been out on the road for two weeks stops at a brothel outside Atlanta. He walks straight up to the Madam, drops down $500 and says, "I want your ugliest woman and a grilled cheese sandwich !"

The Madam is astonished. "But sir, for that kind of money you could have one of my finest ladies and a three-course meal."

The trucker replies, "Listen Darlin, I ain't horny. I'm homesick."


My favorite smiley
Maureen T.Resting