Stats

• 11200 Smileys
• 200 categories
• 315 Bananas
• 310 Good jokes
• 960 Funny names

• 300 % Free •



Links
Partners :

Find Smiley :
You can search for any smiley very easily by typing your words.
Examples : pets, shy gif, mad smiley...


Smiley Eve 1
Eve, New Year...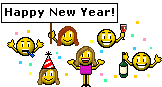 Happy New Year, best wishes...






See also :



Party 1

---> Party 2 • Anniversary 1 • Anniversary 2 •
The cake • Birthday Gift 1 • Birthday Gift 2 •
Cotillons • Eve 1 • Eve 2 • Eve 3 • Eve 4
4th of July USA

Not Lol but Lulz !



• Laugh :


Three women talk about their husband's performance as lovers.

The first woman says, "My husband is a marriage counselor, so he always buys me flowers and candy before we make love."

The second woman says, "My husband is a motorcycle mechanic. He likes to play rough and use leather sometimes."

The third woman shakes her head and says, "My husband works for an Internet company. He just sits on the edge of the bed and tells me how great it's going to be when I get it."


My favorite smiley
Luke Warmwater