Stats

• 11200 Smileys
• 200 categories
• 315 Bananas
• 310 Good jokes
• 960 Funny names

• 300 % Free •



Links
Partners :

Find Smiley :
You can search for any smiley very easily by typing your words.
Examples : pets, shy gif, mad smiley...


Smileys Saint Patrick 2 Lucky
Patrick Saint, clover, luck...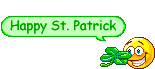 Shamrock, party, Irish, cauldron, lucky...








See also :



St. Patrick's Day

---> Clover, Chance • Cauldron • Paddy drink
Not Lol but Lulz !



• Laugh :


Q : What goes Ho, Ho, Swoosh, Ho, Ho, Swoosh ?
A : Santa caught in a revolving door !

Q : Why does Santa Claus go down the chimney on Christmas Eve ?
A : Because it "soots" him !

Q : What do you do if Santa gets stuck in your chimney ?
A : Pour Santa flush on him.

Q : Did you hear that one of Santa's reindeer now works for Proctor and Gambel ?
A : Its true... Comet cleans sinks !

Q : What do you call people who are afraid of Santa Claus ?
A : Claustrophobic.

Q : Why does Scrooge love Rudolph the Red-Nosed Reindeer ?
A : Because every buck is dear to him.


My favorite smiley
Abigail Ligator